When it comes to protecting your family and other things that are important to you in life, most people understand the value of life insurance.
See "Six Problems You Can Solve With Life Insurance"
See "Top 10 Things You Need to Know About Life Insurance"
Life insurance is perhaps even more important for business owners, because there may be even more at stake: Business partners, employees, and the present and future success of the business or organization.
Here are four reasons business owners in particular need life insurance:
To Replace Lost Income
Of course a life insurance policy can:
Pay for end-of-life expenses
Secure family finances for items such as college education
Life insurance can also replace the lost income of a person who has passed away, which is even more important if you're a business owner, because it can protect the future of your business. For example, if your family is unable or unwilling to run your business after you're gone, they can rely on your replaced income while seeking the right person to take over the business, or the right offer if they decide to sell.
To Settle Debts
Many business owners depend on loans from time to time. It's also common in some cases for personal property, such as a home, to be used as collateral for business lines of credit or loans.
Life insurance can protect your family and business by providing funds to pay off these debts.
To Protect Against the Passing of a Vital Team Member
There is a type of life insurance called key person insurance. It is an invaluable life insurance coverage for business owners, as it provides funds to offset the considerable costs of losing a vital team member. Keep in mind that a business owner can have a key person policy for him or herself, as well as other key people in their organization.
To Ensure Smooth Ownership Transition
Business owners need a succession or transition plan for their business, and life insurance can be a key part of that plan. You may want to consider a buy-sell agreement (or buyout agreement). This is a contract backed by a life insurance policy which would fund the transfer of ownership.
A buy-sell could transfer ownership in the case of a disability or departure, but it very much depends on the type of policy and provisions in place.
Making the Complex Simple
Most people understand their need for life insurance, but for business owners, the need is even greater.
Call Saginaw Bay Underwriters at (989) 752-8600 if you'd like to start a conversation with one of our risk advisors about your life insurance options.
Please also see this information below in the form of a helpful infographic: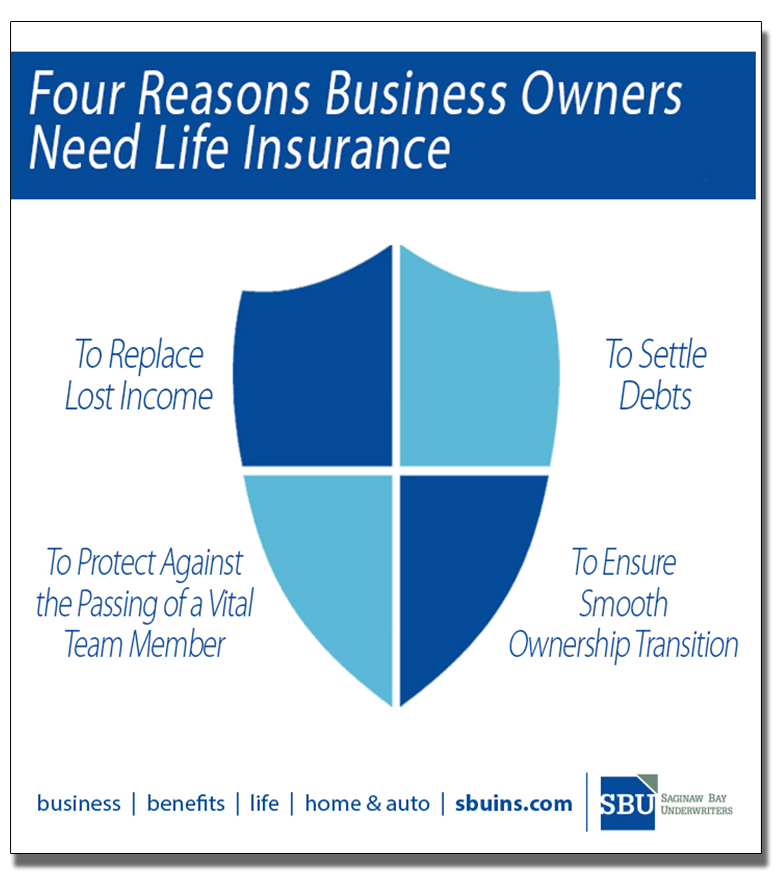 Saginaw Bay Underwriters has made every attempt to ensure this information has been obtained from reliable sources. Current as of: January, 2022