You'll likely soon notice an increase to your auto insurance cost.
Starting on July 1, 2018, the Michigan Catastrophic Claims Association (MCCA) will increase its annual per-insured-vehicle assessment from $170 to $192. This is a $22 increase over last year's assessment and the largest it's ever been in the state's history.
While this increase isn't a large dollar amount for most individuals and families when split into monthly payments, it could be substantial for businesses with large fleets, as the MCCA assessment is per vehicle.
What is the MCCA and why does it exist?
The Michigan Catastrophic Claims Association (MCCA) is a nonprofit association established in 1978 by the Michigan Legislature. The MCCA reimburses insurance companies for any auto-related medical claims over $555,000. In return, Michigan requires all insurance companies to belong to the MCCA and pay an annual per-insured-vehicle assessment to fund the association.
What is the 2018 assessment and why?
•  $192 − July 1, 2018 – June 30, 2019 per-insured-vehicle assessment. This is a $22 per-insured-vehicle increase over last year's assessment, which was $170.
•  $161 of this assessment is to cover anticipated new claims and expenses; $31 is to address the MCCA's estimated deficit.
•  Currently, the MCCA has an estimated $2.3 billion deficit, which represents more than $302 per insured vehicle.
•  The MCCA paid out $1.2 billion ($160 per insured vehicle) in 2017 for claim costs resulting from catastrophic injuries.
•  The majority of catastrophic claims involve brain and spinal cord injuries, multiple fractures, and back and neck injuries.
•  Payments to full-time family or agency attendant and residential care providers comprise approximately 56 percent of claim payments.
•  As of 2017, there were more than 36,200 total claims reported to the MCCA, which will cost an estimated $77 billion.
•  Michigan's unique no-fault auto insurance law provides unlimited lifetime coverage for medical expenses resulting from auto accidents. Michigan is the only state in the nation that requires all drivers to purchase these unlimited benefits. The state with the next highest mandatory benefit level (New York) requires $50,000 of coverage.
•  Each year an increasing number of individuals are receiving MCCA benefits.
•  Medical care costs continue to rise more rapidly than general inflation.
•  Unlike other insurance types, such as Medicare or Workers' Compensation, Michigan's no-fault auto law does not contain comparable cost control measures.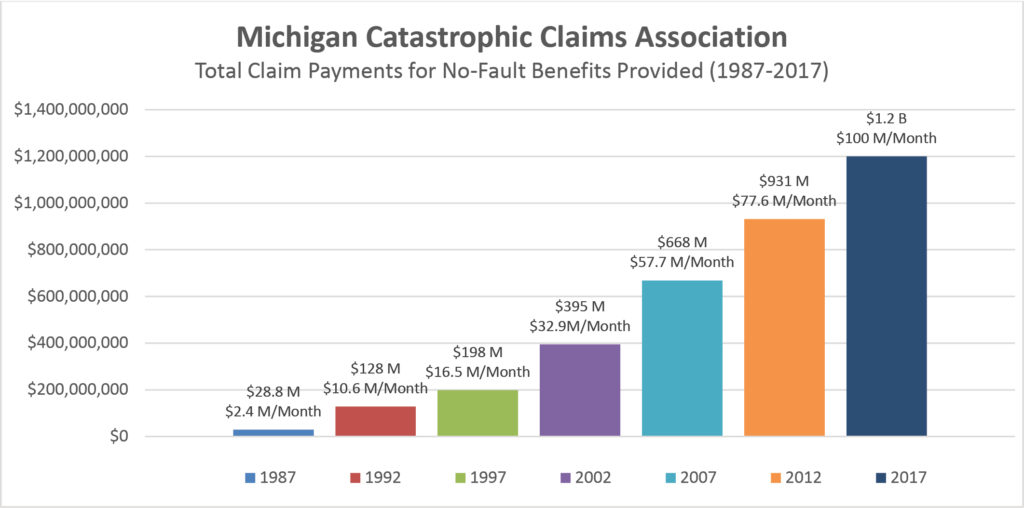 For additional insight into why auto insurance rates may be on the rise, see our "Lessons for Businesses from Recent Distracted Driving Research."
As always, please contact us with any insurance questions or needs.