Michigan auto insurance looks very different now than it did before July 2, 2020. Auto insurance reform or "no-fault reform" impacts every driver in the state, including you. However, the topic can also be very confusing.
Saginaw Bay Underwriters created this helpful series of posts entitled "Navigating Auto Insurance Reform" to make what you need to know clear, so you can make informed insurance decisions for you and your family.
See "Navigating Auto Insurance Reform Part 1"
In Part 2, we'll explain how the reform impacts Personal Injury Protection (PIP) and look at some things you may want to consider.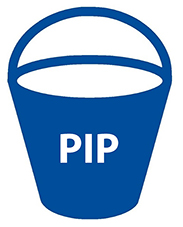 Understanding Personal Injury Protection (PIP)
If you or someone covered by your insurance is injured in an auto accident – regardless of who is at fault in the accident – your own Personal Injury Protection (PIP) coverage is what provides benefits. These include:
Medical care related to the accident (hospital bills, doctor bills, therapy bills, prescription drugs, etc.)
Modifications to your home and/or vehicle, if they were needed to accommodate a debilitating injury.
Attendant care to help with activities of daily living.
Lost wages due to not being able to work.
Money for services to replace household activities (such as cleaning and laundry) if you are no longer able to perform them.
Additional survivor benefits if a death occurs.
New PIP Limit Options
Before auto reform, PIP coverage had no dollar limit. Under the new law, drivers can now choose from the following coverage options:
Maintain unlimited PIP.
$500,000 PIP limit.
$250,000 PIP limit.
Drivers who meet certain conditions involving Medicaid, Medicare or other health insurance coverage can also choose a $50,000 limit, or can opt-out of PIP completely.
PIP vs. Health Insurance
It's important to note that PIP coverage is broader than other types of insurance that might apply in the case of an auto accident: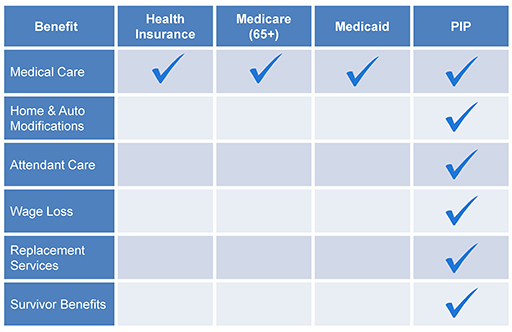 This is particularly important for those who consider choosing a lower PIP limit or opting-out of coverage due to having some other form of insurance. Also keep in mind that health insurance typically involves deductibles, copays and limits on certain types of treatment, while PIP does not.
Changes to the PIP Order of Priority
The PIP Order of Priority identifies which insurance policy will pay PIP benefits. The new law has made substantial changes to the Order of Priority, meaning that people who used to be covered for PIP by your auto policy may no longer be.
Examples include:
An adult son or daughter who no longer lives at home, but drives your vehicle.
Non-relatives (such as a boyfriend or girlfriend) who reside in your household, even if they are listed drivers on your policy.
Occupants of your vehicle who are not related to you and don't live with you.
Considerations Regarding PIP
You may want to consider maintaining unlimited PIP coverage. If you are injured in an auto accident, lower limits may not provide enough coverage. PIP also provides broader benefits than other types of health insurance.
You may want to consider reviewing who is and who is not covered by your policy. Adjustments may need to be made to ensure coverage for everyone in your family. If you think any of these situations or another unique situation might apply to you, please have a conversation with a Risk Advisor at SBU.
Making the Complex Simple
Michigan auto insurance reform is a very important topic, but it can also be confusing.
In Part 3, we'll look at the major changes to Bodily Injury (BI) liability and some things you may want to consider.
For more information now, see "Michigan Auto Insurance Reform FAQ."
Please subscribe to our blog to be notified of future posts. Call Saginaw Bay Underwriters at (989) 752-8600 if you'd like to speak with an advisor about your auto insurance.
Saginaw Bay Underwriters has made every attempt to ensure this information has been obtained from reliable sources. For specific language, please refer to your insurance policy, in addition to state statutes, laws and regulations. Current as of: July 2020.