If you're a business or organization that is required to keep Occupational Safety and Health Administration (OSHA) records, you may be familiar with the following terms:
OSHA recordable incident rate
Lost time case rate
Lost workday rate
Severity rate
DART rate
Here is a helpful infographic about these important, but potentially confusing calculations: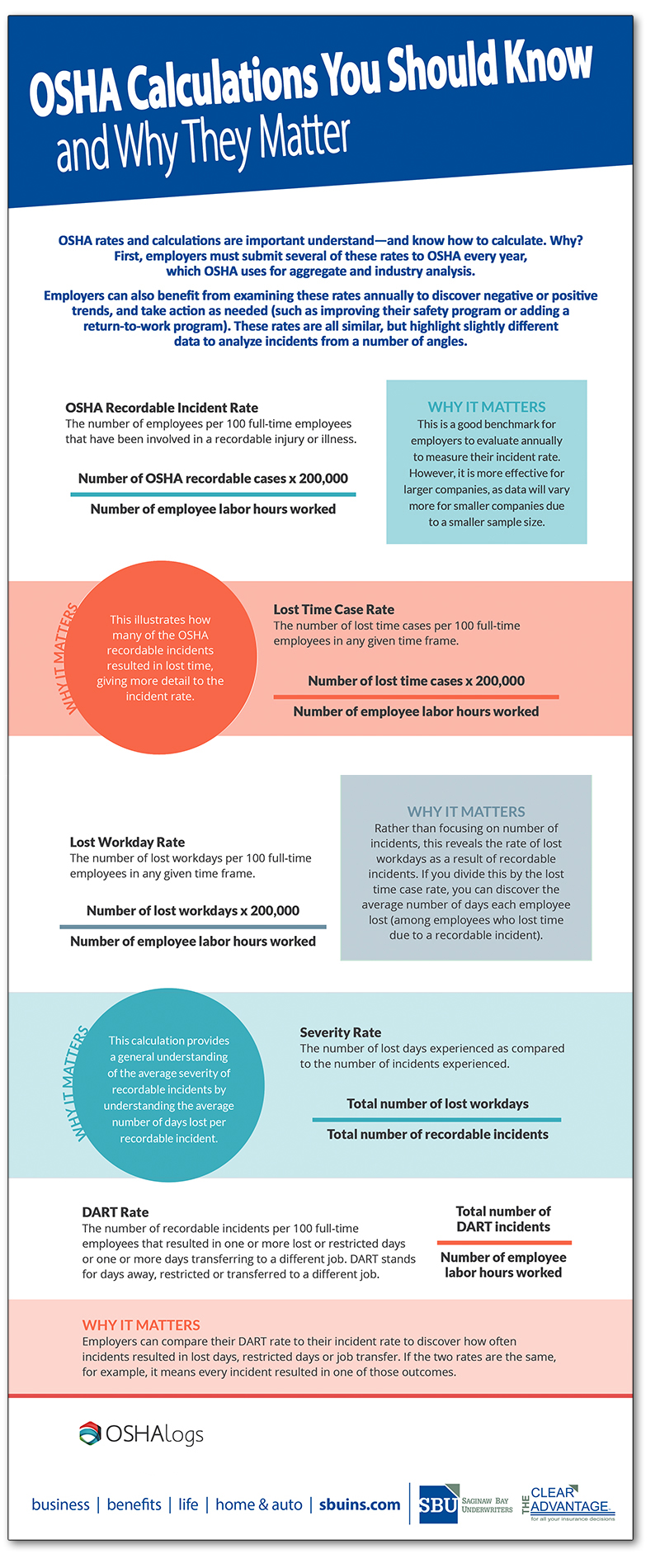 Did you meet the March 2 deadline to electronically report to OSHA?
Establishments with 250 or more employees who are currently required keep OSHA records are also required to electronically submit information from their OSHA Form 300A.
This electronic reporting requirement must also be met by covered establishments in certain industries with 20-249 employees. The list of certain industries includes construction, manufacturing, wholesale trade and dozens more.
The deadline for electronically submitting 2018 data was March 2, 2019.
OSHA has provided a secure website for online reporting. This can be done via a web form, an uploaded CSV file or with an automated recordkeeping system.
Non-compliance with this requirement can, and has, resulted in fines and penalties. Fines and penalties can be assessed by both OSHA and MIOSHA.
Making the Complex Simple
How do you keep track of OSHA reporting? How do you maintain compliance? How can you streamline this process? Saginaw Bay Underwriters offers a solution to our clients at no cost.
Our platform makes electronic reporting to OSHA simpler by creating the CSV file for you, but can also:
Create your workers' compensation "first report of injury."
Track DART rates, OSHA incident rates, severity rates and lost time case rates.
Allow you to track "near misses," so you can avoid future injures.
For even more information, see "March 2 Deadline: Updated OSHA Electronic Reporting Requirements."