Owning a home is one of life's greatest pleasures, but it also has plenty of associated risks. Many of them have one thing in common – water damage.
There's a very simple thing you can do to immediately protect yourself from one of the leading causes of home water damage: Replace rubber washing machine hoses with steel braided ones.
As Cincinnati Insurance puts it:
Insurance statistics clearly indicate that rubber washing machine hoses are one of the leading causes of water damage in homes. They have an average lifespan of 3 years and can dry, crack and eventually break.

Since most homeowners do not shut off the water lines to their washers, when these hoses rupture water immediately flows. If the leak goes undetected for any length of time there could be significant damage to the home and furnishings.

In order to reduce the susceptibility to water damage it is suggested that the rubber hoses are replaced with steel braided ones. Steel braided washing machine hoses can be purchased at any hardware store and are easily installed.
What else can be done to reduce your water damage risks? According to "When water is not your friend," by Tamala Whitaker:
The most effective way to prevent costly water damage in your home is to install a leak detection and water shut-off system.
Whitaker explains that there are different levels of protection – some providing leak detection only, some providing water shut-off features as well – which make them a possibility for most homeowners, regardless of budget.
A great bonus of these systems? Homeowners' insurance premiums will often be lower for houses with them installed.
For more information about the risks of water damage in your home, check out this helpful infographic by Tom Ovens: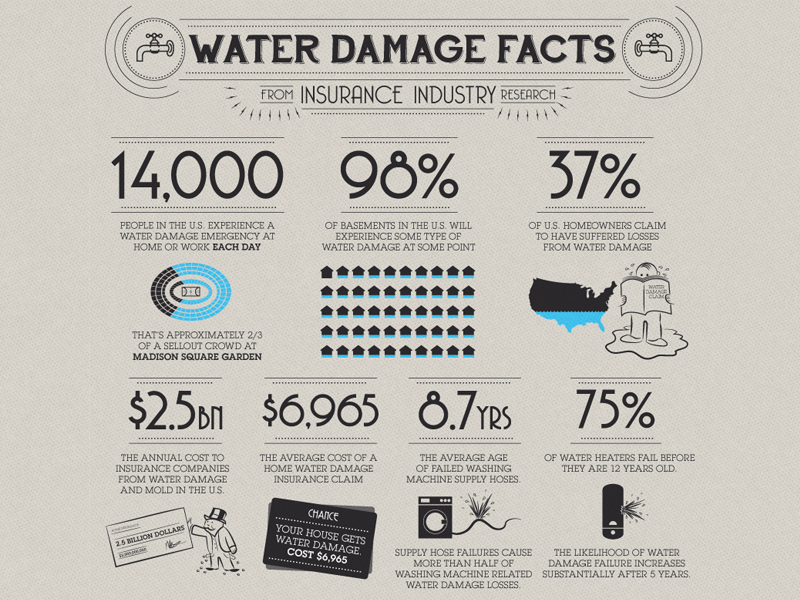 Contact Saginaw Bay Underwriters today to begin exploring how we can help minimize the risks of home ownership and water damage, and protect your most valuable possessions.