An Indisputable Fact
At some point, we've all heard a statement like the following: "The United States has the highest health care costs in the world." Based on the most recent data from a number of sources, this statement is an indisputable fact.
The full infographic below uses data from the International Federation of Health Plans (iFHP) and the Health Care Cost Institute (HCCI), and illustrates the disparity between U.S. health care costs and those of other countries. Specifically, it compares what a person in the United States would pay to what people from other countries would pay for various items in these areas:
Physician/Outpatient services
Hospital admissions
Administered drugs
Prescription drugs
What Can U.S. Employers Do in Response?
The question of why our costs are higher is a complex and sometimes controversial one. Depending to a large extent on who you're asking, possible involved factors include regulations or lack thereof, administrative costs, overall utilization trends, the world-leading status of our health care industry in general, and many more.
A better question is: Given that U.S. health care costs are the highest in the world, what can employers do in response?
Keep in mind that many factors involved in our health care costs are beyond an individual employer's control. However, there are some practical things an employer can do to keep their own utilization of these high-priced items down:
1. Prevention before treatment
Many people unfortunately don't see a doctor until something is wrong, leading to more expensive measures. Most employee benefits plans include a number of preventive services at no cost, including a basic annual exam.
If you can encourage your employees to regularly utilize even just their annual physical, not only will they have a much better chance at a longer, healthier life, your plan should also see fewer costly claims.
2. Minimize prescription cost
If your employees catch health issues earlier via their annual exam, they should generally require fewer costly prescriptions and hopefully fewer prescriptions overall.
With prescription drugs accounting for the majority of how U.S. health care dollars are spent, this is an area to strive to control.
3. Utilize tools and strategies
Another way to limit your plan's overall cost is to partner with an advisor who can help with tools and strategies designed to do so.
For example, regarding prescription drugs, there are ways to educate your employees about their options and even help them shop for the lowest prices. With the right advisor helping you implement the right tools and strategies, containing costs becomes much more realistic for most employers.
Making the Complex Simple
Many of the factors that make U.S. health care costs the highest in the world are beyond the control of most employers. However, there are things that can be done to keep the costs of your plan down, while helping your employees to stay healthier.
Please see the infographic below for more information.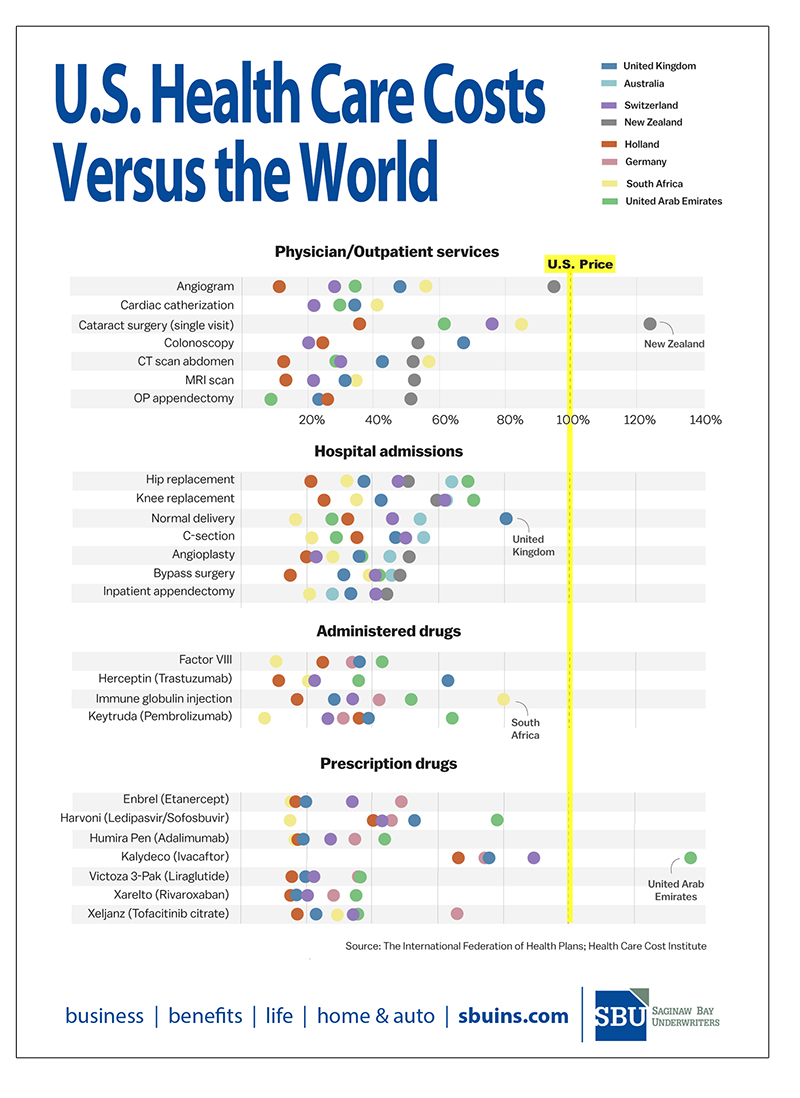 Saginaw Bay Underwriters has made every attempt to ensure this information has been obtained from reliable sources. Current as of: August 2021