What is a hard insurance market?
Like with other industries, the insurance industry has market cycles. In a soft market, premiums are stable or falling and insurance is readily available. In a hard market, rates rise and coverage may be more difficult to find.
Imagine a bank. When the bank has a large amount of money to loan, it will charge less interest and offer loans more freely. When money to loan is scarce, interest rates will rise and the bank will be more selective about who it loans to.
A hard insurance market is similar to a bank with less money to loan.
What can your business do about the hard market?
The key is having an SBU risk advisor on your team. Through The Clear Advantage™ approach, we help you navigate the hard market using two proven and interrelated strategies:
Risk Profile Reduction: Working together, your advisor brings forward strategies and programs that can be implemented to help lower your overall risk profile, making your business more attractive to the insurance company and reducing the likelihood of loss.
Risk Profile Presentation: We are then able to use our knowledge and expertise to present your business to the right insurance carriers, in the most complete way, to get the best coverage and pricing available.
Making the Complex Simple
An SBU business risk advisor can help you address a hard insurance market in a proactive, forward-thinking way.
If you'd like to begin a conversation, please contact us.
Please also see this information below in the form of a helpful infographic: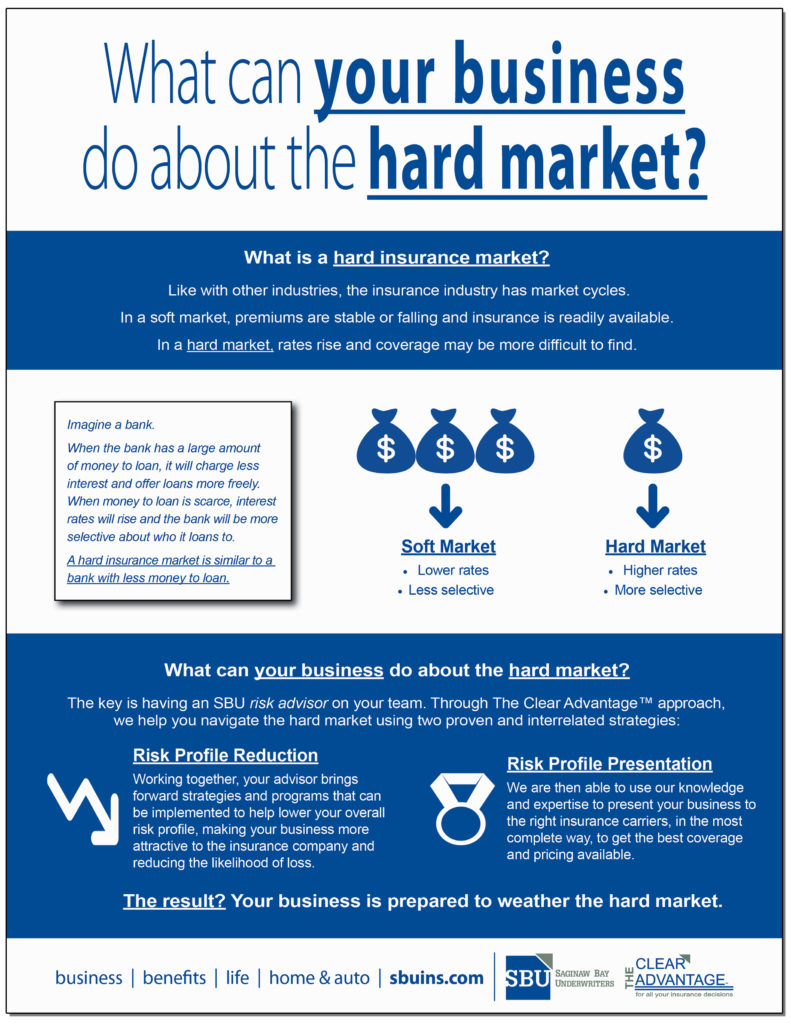 Saginaw Bay Underwriters has made every attempt to ensure this information has been obtained from reliable sources. Current as of: July 2021