It seems like winter is finally over and spring is here!
Now is the perfect time to get your home ready – both inside and outside. Making sure everything is prepared for the new season is a great way to avoid risks and ensure that your valued possessions keep their value.
Check out this quick "Spring Cleaning Safety Checklist," followed by a helpful infographic.
As always, before you do any kind of work, make sure safety is on your mind. Home maintenance activities often lead to accidents, so wear protective equipment, use the right tool for the job and be careful!
Inside Your Home
Test smoke detectors
Making sure smoke detectors have charged batteries and work properly is the first step for any safe home. Test each individually and make sure they can be heard throughout the house.
Ensure fire extinguishers work
Many homeowners don't own a fire extinguisher at all, but having at least one is vital. They come with an expiration date, so this is a great time to check yours to make sure it's still operational.
Check carbon monoxide detectors
Similar to smoke detectors, carbon monoxide detectors need to be checked regularly. You should also have one in each area of your home.
Create or review your family emergency plan
There are many online resources for having a family emergency plan – one complete with evacuation routes and rendezvous points. If you don't have one, now is the time!
Update your first-aid and 72-hour kits
A 72-hour kit ensures that your family has enough food, water and supplies for 72 hours, in case of emergency. Take the time to make sure you have one, along with a basic first-aid kit.
Clean out your medicine cabinet
Get rid of expired and unused medications, but be sure to do this in the proper way. This is also a good opportunity to organize medications for the new season.
Secure your home
Check your yard and home to make sure there aren't opportunities for dishonest people to break in or steal from you. If you don't have a security system, consider looking into one.
Replace air filters
Along with airing out your house during spring cleaning – which most people do – also be sure to change AC and furnace air filters, as well as similar filters on vacuums, ranges, etc.
Go green
Are you using organic, nontoxic cleaners to do your cleaning? This year would be a great time to consider doing so. For the ambitious, it's also possible to make your own green household cleaners.
Outside Your Home
Watch for pests
Check around your house for evidence of termites. Also check for bees nests, rodent holes, etc., and take measures to get rid of unwanted pests that may have moved in over the winter.
Check the pipes
Turn on sprinklers and outdoor spigots to make sure you don't have any issue with frozen or leaky pipes.
Prepare your yard
Trim trees before dead branches fall and potentially hurt someone. Also make sure to keep branches clear of electrical lines, and clear paths/walkways of tripping hazards.
Get ready for the thaw
With thawing comes the possibility of flooding, ice dams and other risks. Check to make sure that thawed ice and snow isn't causing issues.
Clean chimneys and gutters
A dirty chimney is a fire hazard. Unclean gutters are also a fire hazard, as well as a flooding hazard. Be sure to carefully clean these, hiring professional help if needed.
Always think safety on the road
Spring often means slick roads from rainfall. It also means more drivers and children outside playing. Now is a good time to remain vigilant about being a safe driver.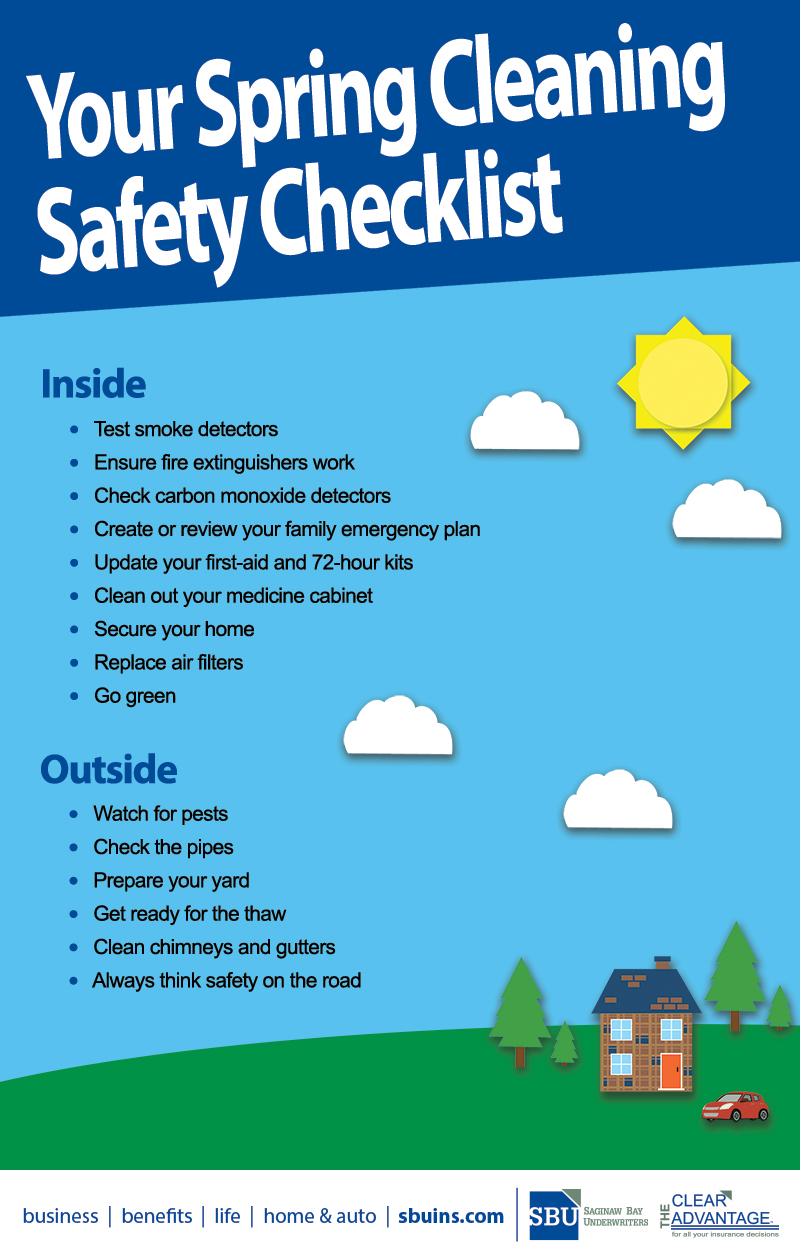 For more information, see "A Complete Spring Cleaning Safety Checklist."
Contact Saginaw Bay Underwriters to meet with an advisor about other ways to minimize your risks and protect your home.